GlueX TOF Meeting, June 6, 2018
From GlueXWiki
GlueX Time-of-Flight Meeting
Wednesday, June 6, 2018
10:00 am EDT
JLab: CEBAF Center, Room F226
BlueJeans Meeting number is 350 531 998
Agenda
Announcements
Review of minutes from the May 23 meeting
Calibration Status

Calibration complete, now check stability
Amplitude variations

NIM Paper (Paul)
Action Item Recap
Slides
Talks can be deposited in the directory /group/halld/www/halldweb/html/talks/2018 on the JLab CUE. This directory is accessible from the web at https://halldweb.jlab.org/talks/2018/ .
Minutes
Present:
FSU: Sasha Ostrovidov
JLab: Mark Ito (chair), Simon Taylor, Beni Zihlmann
There is a recording of this meeting on the BlueJeans site. Use your JLab credentials.
Review of Minutes from the May 23 Meeting
We reviewed the minutes without comment.
Calibration Status
Beni gave the report. Calibration is complete. All runs for which Sean Dobbs produced files are done. The constants obtained have not been written to the CCDB yet.
Checking stability of the timing constants
The downstream plans appears less stable than the upstream.
For some PMTs, isolated runs show large excursions. These are likely due to failures in the calibration program for these channels. These only appear in the downstream plane and not the upstream, against naive expectations.
We may have to revisit calibrations for selected channels.
Variations in the signal amplitude
Beni showed plots of signal amplitude versus run number for two of the PMTs.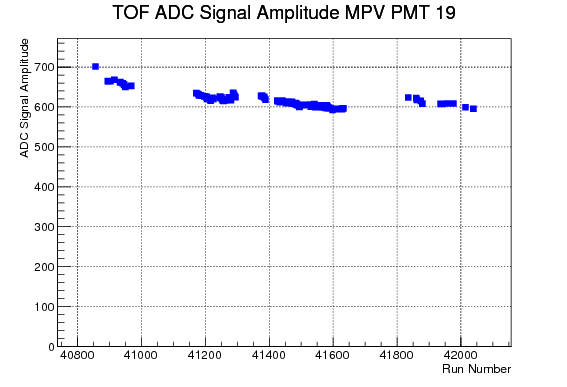 PMT 19 is in near the beam line in the downstream plane. Note that the gain seems to have dropped 12-15% over the course of the run.
PMT 110 is also near the beam line in the upstream plane. Note the rise in gain around run 41900. Beni sees extra noise in the HV voltage read-back around this time, but the cause of the rise is still under investigation.
TOF Upgrade
Sasha reported that Paul Eugenio has the FSU shop working on a mock up the the central region of a newly configured TOF. In particular they are trying ideas for how the light guides for the half-width paddles should be shaped.
Also, in July, Paul is planning on coming up to the Lab. He wants to paint the ends of half-length paddles black so that there is little contribution from light reflected from the beam-adjacent face of the counters.