GlueX TOF Meeting, August 12, 2020
From GlueXWiki
GlueX Time-of-Flight Meeting
Wednesday, August 12, 2020
10:00 am EDT
BlueJeans: 350 531 998
Agenda
Announcements
Review of minutes from the last meeting
TOF Status
Calibration
TOF NIM paper
Action Item Recap
Slides
Talks can be deposited in the directory /group/halld/www/halldweb/html/talks/2020 on the JLab CUE. This directory is accessible from the web at https://halldweb.jlab.org/talks/2020/ .
Minutes
Present: Edmundo Barriga, Eugene Chudakov, Mark Ito (chair), Sasha Ostrovidov, Simon Taylor, Beni Zihlmann
There is a recording of this meeting on the BlueJeans site. Use your JLab credentials to gain access.
Review of minutes from the last meeting
We went over the minutes from July 29. Beni reported that the hot channel in the ADC scalers was some sort of DAQ glitch; it has since calmed down.
Calibration Anomaly
Sean Dobbs alerted Beni to a problem with the calibration from the first part of the current run (pre-COVID interruption) for paddle 18. The bottom PMT of this paddle, PMT #63, has an anomalous time-walk behavior (time difference between TDC and ADC vs. ADC amplitude). See Beni's plots below. The top plot is from run 71838 where the ADC was bad, the bottom from 71833, before the problem appeared. Note also that in the top plot the y-values have had their signs flipped artificially; the difference from nominal is much starker than the plot suggests on its face. This degraded the calibration of the paddle. Unfortunately, this problem, which was fixed by changing the FADC, persisted for a not-insignificant number of runs and has to be dealt with. Beni is looking into a fix.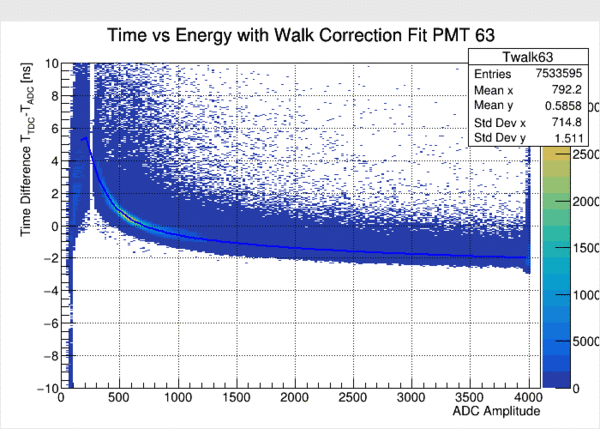 TOF NIM paper
We re-dedicated ourselves to the effort.
Action Item Recap
Decide on when to ship PMTs to JLab from FSU (Mark, Paul Eugenio)
Prepare a complete draft of the TOF NIM paper. (all)
Paddle 18 re-calibration (Beni)