GlueX Start Counter Meeting, March 5, 2020
From GlueXWiki
GlueX Start Counter Meeting
Thursday, March 5, 2020
10:00 am EST
CEBAF Center, Room L207
BlueJeans: 556 286 544
Agenda
Announcements
Calibration and Efficiency (Rupesh)
Dark Rate Studies (Beni, Rupesh)
Other Run Planning
Action Item Review
Minutes
Present:
FSU: Sean Dobbs
JLab: Rupesh Dotel, Tolga Erbora, Mark Ito, Simon Taylor, Beni Zihlmann
There is a recording of this meeting on the BlueJeans site. Use your JLab credentials to gain access.
Review minutes from the last meeting
We looked at the minutes from the February 6 without significant comment.
Calibration and Efficiency
Rupesh presented recent work on calibrating the propagation delay for the start counter for the current run. See his slides for the details. From his talk, before and after calibrations plots of start counter hit time vs. position in paddle 1.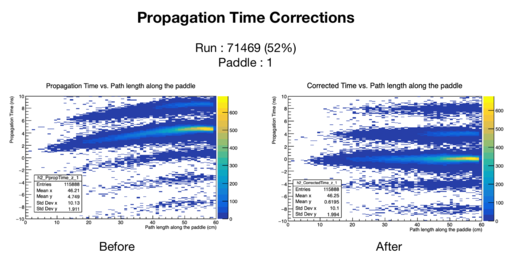 The timing resolution he gets is about 320 ps for 150 nA running and 330 ps for 350 nA running. Jobs take a long time to run because he needs a full run of statistics and tracking must be done to get a position along the start counter paddle.
Rupesh will update constants in the CCDB and re-do the calibrations periodically to check stability.
Dark Rate Studies
Beni took some data earlier this week. Stay tuned for results...
Young collaborators from Miami will look into taking on more responsibility in this area.